Our USB3 to M.2 Key B 4G 5G Modem Adapter Enclosure with SIM Card Slot – V7 is the newest version of our USB3 to M.2 adapter. It is a device for connecting a 5G 3050 (M.2) cellular modem card (Tested with the Quectel Wireless RM500Q, RM510Q, Sierra Wireless EM919x series, and  SIMCOM SIM8200 series) as well as 4G LTE NGFF 3040 (M.2) modem cards (i.e., Sierra Wireless EM7565, EM7455, EM7354, Quectel EM160R-GL, EM12-G, EM20-G, EM06-A, and Telit 4G LTE M.2 Modems.), behind a PC or router via a USB port. It is said to also support the Fibocom 5G modems and includes a jumper to enable Fibocom 4×4 MIMO antenna configuration. We have not tested this in house.
It does not support the slightly different length of the Telit 5G modems.
NOTICE : This version has a micro-B USB port for it's auxiliary power input. Recommended 5VDC, like from a standard cell phone charger.
NOTICE: The Auxiliary power input is not necessary for normal operation of the adapter. This port is only to back up the power supplied via the USB3 primary input. The Aux. power input is a switched power supply for the modem that will not power the modem unless the USB3 primary port is powered. This is a protective mechanism that keeps the modem from being powered when the host device, like a router, is not powered. Again, the adapter and modem will not power up when only Auxiliary power is applied, it must have power on the USB3 port to power on the adapter.
Recommended power input voltage for Aux power input port: 5 VDC
NOTICE : This version works with most all version of cellular 5G modems including the Sierra EM919x series as well as Telit FN9xx 5G modems.
LED FUNCTION: There are two colors of LEDs that show on the LED display. The RED LED states that the device is powered. The GREEN LED states modem activity. Each modem manufacturer and model uses this output differently. Some modems will flash the Green LED when in use, and some will remain solid, and some will not light up Green at all. This is a GPIO setting of modem interface PIN 10. You will need to look at your particular modems hardware design manual and AT Commands manual to see how to set or modify this if necessary, as well as for how this GPIO output may work. If you need more information on it, please reach out to your modem manufacturer directly.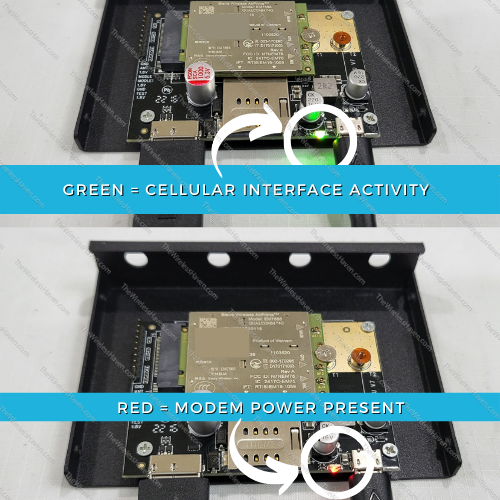 Note on the Sierra EM919x and EM7690 series modems: The Sierra EM919x series 5G cards require a different voltage level than other 5G modems on a certain set of pin. This requires the side of board jumper pins to be set properly to enable the EM919x module to be in USB mode for use in this adapter. For the EM919x/EM7690 modem to work in this adapter, the pins labeled "1.8V" and "MODLE" must be jumped together, and the pins labeled "1.8V" and "MODLE1" must also be jumped together. No other pins should be jumped together.
We recommend adding a quality heat sink to the top of the modem card to protect your modem equipment investment. You can also place a thermal pad between the modem and adapters PCB as well as between the PCB and it's metal enclosure. These are included with our Wireless Haven enclosures.
The enclosure's SIM Card slot is equipped with ESD protection and uses a "Mini" SIM Card Slot.The USB 3.0 A Male to Micro-B Male plug (AM-Micro BM) provides a durable and solid connection to the enclosure.   The data power cable may be extended with the use of quality USB 3.0 extension cables. We do not recommend a length of more than 10 feet.
USB3.0 (4.8Gbps) boasts of providing Ten Times the capability of USB 2.0.  It also provides 900mA power as opposed to 500mA utilized thru USB 2.0.  Type A connectors are are backwards compatible to USB 2.0 and/or USB 1.1.
The PCB is engineered with the industry inductance and an independent power capacitor and is equipped with an extra Micro USB power port for applications where additional (dual) power is required.
With the option for auxiliary power input, it accommodates even the most power intensive M.2 modems.
The enclosure may be used on a desktop or mounted to a wall.  It uses the industry standard SMA Male 4G LTE antennas (purchased separately, see antenna options below) and includes four MHF4 to SMA female bulkhead (1.13 cables) pigtails (to connect the M.2 modem to the antennas).
There are six cutout holes totaled in the cases (two in front and 4 in the rear) for adding additional antennas to accommodate 2×2 and 4×4 MIMO M.2 modems.
Compatible Cellular Omni SMA Male Antennas:
Suggestions:
When extending the USB3.0 cable use only large diameter and quality cable to prevent voltage drop which can and will lead to disconnect issues.
When adding antennas, select the SMA antenna upgrades.  The RP-SMA will not work without installing MHF4 connector to RP-SMA bulkhead connector pigtails.
When using a SIM Card adapter (i.e., micro to standard, etc), take precaution that the SIM card fits "freely" and flat into the adapter.  In other words, you should not have to force the SIM card into the adapter.  A SIM card that is too tight, when installed in the SIM slot, can rise and cause a misalignment between the adapter pins and SIM card.  All tits/nubs on the side of the SIM card should be sanded smooth.  This is easily done with a laying a nail file/emery board/piece of sand paper flat on table top, and working the SIM card evenly across until smooth.
This USB adapter will not work on the Mini PCI-E modem cards (i.e., Sierra Wireless MC series cards).
In order for a Windows based PC to recognize a Sierra Wireless modem card, regardless of how it is being attached, the Sierra Wireless Windows drivers must first be installed on the Windows device.  Refer to our

LTE FIX IT Series tutorial
Package Content:
1 x  USB 3.0 to NGFF (M.2) 4G 5G PCB and Enclosure
1 x USB3.0 to  Micro-B Male 15.75 Inch power Cable
4 x MHF4 to SMA Female Bulkhead connector 1.13 pigtails
2 x 2 Pin Jumper
1 x Thermal Heat Transfer Pad
4 x Antenna Cable Case Hole Plugs
1 x M2 Modem Screw
**Antennas and M.2 Modem are not included
Example of a 4×4 MIMO install:
A very common mistake is leaving the orange insulating sticker over the screw pillar and trying to screw the modem hold down screw into it.